Platinum Jubilee Celebrations!
We had a wonderful week celebrating the Platinum Jubilee of Her Majesty the Queen. The school looked splendid with its railings adorned by red, white and blue bunting for all to admire.
Wednesday was our special Jubilee day with a whole-school picnic and tea party organised.
Our planned Jubilee picnic had to be an indoor event due to the classic British weather; however, our spirits were not dampened and we all enjoyed our lunch dressed in red, white and blue!
Then came the magnificent tea party, organised by Maple Class. Tickets had all but sold out as family and friends waited in eager anticipation for a delicious home baked cream tea. The hall looked incredible , decked out with home made bunting, designed by the children with the generous help of Mrs Alvey and Hattie. It was absolutely beautiful!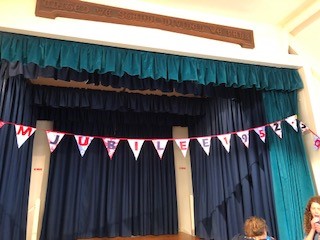 Copies of letter the children had written to Her Majesty were also on display.
Floral arrangements, white table cloths and vintage china set the tone for a top class event!
Mrs Pincher had done a brilliant job providing lovely scones and these were served in style accompanied by strawberry jam and clotted cream.
Maple class also ran a cake, raffle and plant sale which was very well supported.
The children from across the school (including our Nursery children) had been learning songs from the seven decades to perform at the Jubilee tea party to to entertain the assembled guests. From 'The Sound of Music', our opening number was 'Do, re, mi' followed by Cliff Richard, the Beetles, Abba and more. There was certainly lots of toe tapping as we took a nostalgic journey through the decades of pop music.
We finished with everyone standing for a rousing rendition of the National Anthem.
Our visitors were delighted with the children's efforts and declared it was a superb afternoon.
Behind the scenes, there was a lot of washing up going on!
Well done to everyone who contributed to the amazing success of the event.
We will be planting a Jubilee oak tree in Term 6 as a lasting tribute to the reign of the Queen.
It was a Jubilee to remember. Thank you to EVERYONE who contributed to its success.
We should like to wish Her Majesty a wonderful Platinum Jubilee and we thank her for the wonderful example she has given to us all through her dedicated service to others for the last 70 years.